Get to know the alpha and omega of modern cosmetic treatments! VIVACE MICRONEEDLING RF is an innovative skin tightening and skin rejuvenation treatment that is the safest and most effective alternative to fractional laser procedures.
By combining the power of microneedles, radio frequency (RF) and LED light therapy, it not only provides an effective solution against wrinkles, but also treats many skin problems; tightens large pores, improves the condition of acne-prone skin, fades acne scars and stretch marks.
Thanks to its immediate effect, a single treatment is guaranteed to reduce the number and depth of wrinkles, however, depending on the type of skin and the desired result, several treatments may be necessary.
Don't worry about skin blemishes or wrinkles anymore, sign up today!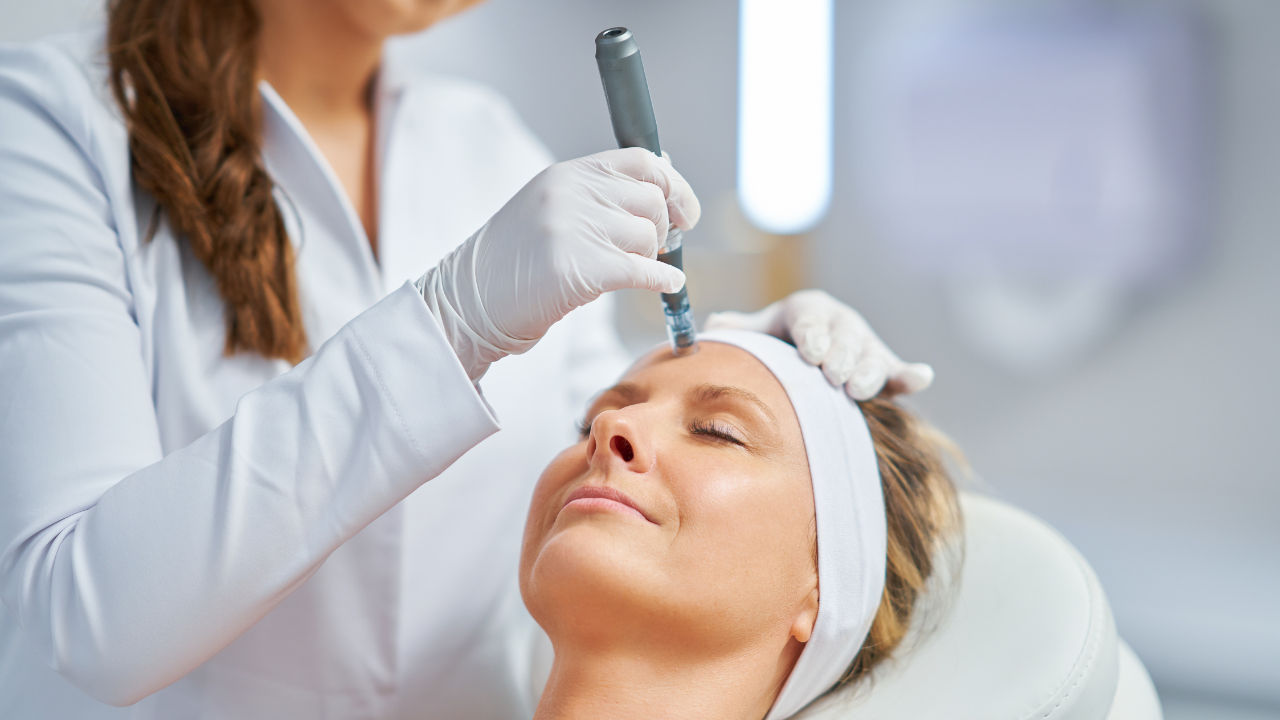 We recommend it to you if you want to achieve the following results:
wrinkle reduction
skin rejuvenation
face lifting
acne, acne scar removal
wide pores
treatment of spider veins
treatment of stretch marks
lightening of surgical scars
treatment of hyperhidrosis
skin tightening
Advantages of VIVACE MICRONEEDLING RF treatment
Reduces the number and depth of wrinkles

The VIVACE MICRONEEDLING RF treatment stimulates the body's natural collagen and elastin production, thus restoring the skin's firmness and elasticity.

Improves skin tone and texture

The combined effect of increased collagen production, RF energy and LED pulses accelerates cell regeneration, thus ensuring a more youthful appearance.

It is practically painless

After thorough disinfection, we anesthetize the area to be treated, for a hassle-free treatment experience.

Safe and effective

The amount of radio frequency energy used for the treatment can be customized, so the treatment is safe for all skin types and skin tones.
How does the VIVACE treatment work?
Vivace combines three different skin rejuvenation methods for unparalleled results.
Microneedles are used to create microinjuries on the dermal and subdermal layers. These micro-injuries prompt the body to initiate its natural healing processes: especially the replacement of new skin cells and proteins in the deeper layers of the skin. Microneedling as a stand-alone treatment is used to correct skin surface imperfections and improve visible signs of aging.
Radio frequency stimulates processes within the skin. Similar to microneedling, radio frequency energy also increases the production of collagen and elastin, and can reverse the visible signs of aging.
Red LED pulses activate skin cells, increasing collagen production, skin moisture, and improving skin tone and texture. The blue LED light acts on propionibacterium acnes and improves the condition of acne skin.
What to expect during VIVACE treatment?
Like all treatments in the Heiszler Salons, the VIVACE treatment is preceded by a free consultation, where our beautician performs a skin analysis to make sure that VIVACE is the most suitable treatment option for you. We will then discuss the treatment plan, the course of the treatment itself, what you can expect from the procedure, and any questions you may have.
You will also receive comprehensive skin care advice, and you will also have the opportunity to purchase professional Babor products, with which you can maintain the achieved results until your next visit to the salon.
If you would like to learn more about VIVACE, sign up for a free consultation today or contact us at one of our contact numbers.
F.A.Q
Is the VIVACE treatment painful?

Before the VIVACE treatment, an anesthetic cream is applied to the selected skin area, which makes the intervention painless.
Is the VIVACE treatment suitable for me?

VIVACE is an effective treatment for all skin types. During the consultation with our specialists, we assess the current condition of your skin, any problems you may have, and adapt the entire treatment to your needs, including the care products used for the treatment.
How long does a treatment take?

The expected duration of the VIVACE treatment is 60 - 90 minutes.
What side effects can occur?

Skin redness may occur after VIVACE TREATMENT, but this will disappear within a few hours (2-5).
How many treatments will I need for visible results?

Spectacular results can be achieved with just one treatment, however, for truly lasting results, avg. 3 - 4 suitable courses are recommended.