THERMAGE RF radiofrequency skin tightening is a safe and effective anti-aging treatment, which is a painless way to improve the texture of mature skin that has lost its elasticity.
The THERMAGE RF treatment stimulates collagen production, tightens and tones loose, sagging skin. It can be used perfectly for facial rejuvenation, as well as for firming the toca and neck. The deep furrow between the corner of the nose and mouth, the sagging, loose chin line, and crow's feet can also be treated very well with it.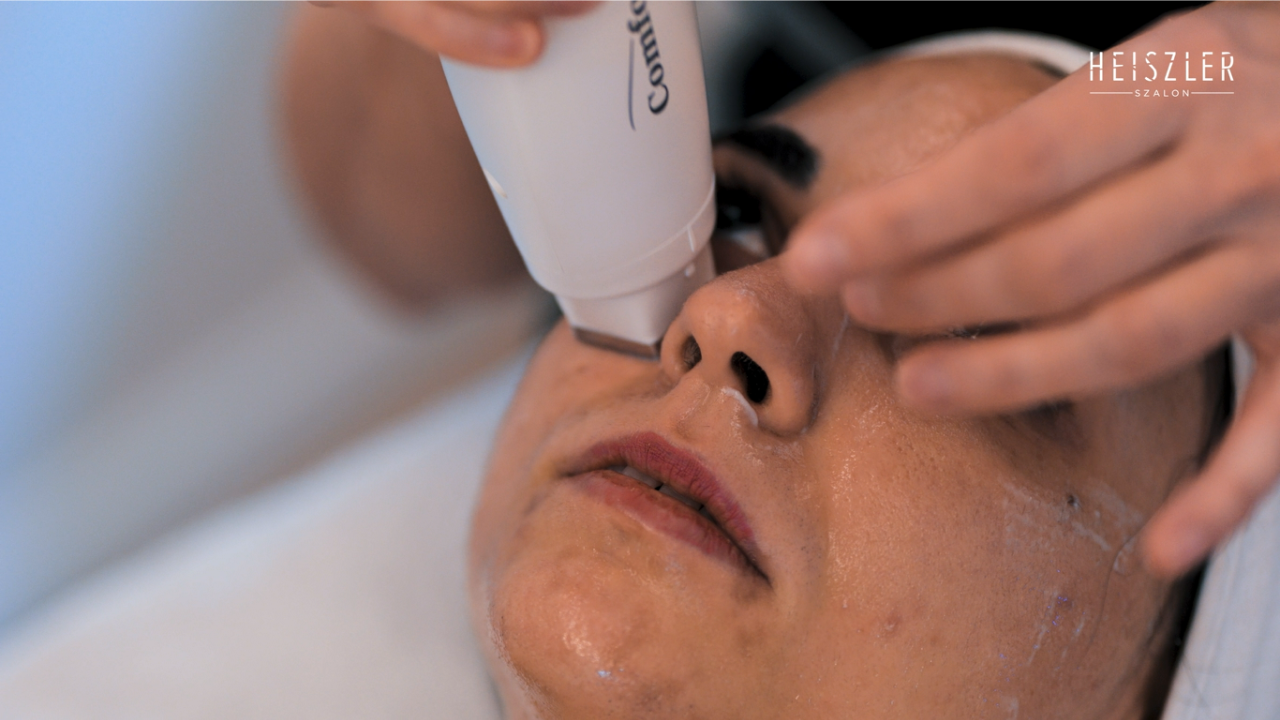 WE RECOMMEND YOU IF:
your skin has become dull and lifeless due to stress,
the elasticity of your facial skin has decreased,
your skin has lost its sagging, tight contours,
you want a natural result,
if you want a particularly pleasant, pampering treatment.
Advantages of THERMAGE RF treatment:
Anti-aging effect

Thermal radio frequency stimulates the skin's natural collagen production.

Tightens sagging skin

Thanks to increased collagen production, the skin regains its elasticity.

Smooth, fresh, vibrant skin

Thanks to cell regeneration, the texture of the skin improves and regains its natural glow.

A natural result

It provides a subtle but spectacular result, without an unnatural effect.

Versatile treatment

Ideal for tightening loose or sagging skin around the eyes (crow's feet), on the forehead and along the jawline.

A real experience

The treatment is a particularly pleasant, warm feeling, which is crowned by a pampering face massage at the end.
How does THERMAGE RF treatment work?
THERMAGE RF combines the power of three synergistic technologies.
The special treatment head delivers multipolar RF energy safely, without damaging the skin surface, into the deeper tissues of the skin, where it stimulates the fibroblast cells, promoting collagen production.
As a result of the pulsating vacuum massage , blood and lymph circulation improves, which has an extremely beneficial physiological effect on the metabolism of cells and tissues. The intense increase in lymphatic flow between the space between the cells and the lymphatic vessels has a strong detoxifying and edema-reducing effect.
LED light therapies have a positive effect on the skin tissue as a whole. The red LED has a beneficial effect on the rejuvenation of skin cells by increasing ATP production (cellular energy), while the blue LED is an effective supplement to acne treatments and also has a skin antiseptic effect.
What to expect during the THERMAGE RF treatment?
As with all treatments in Heiszler Salons, the THERMAGE RF treatment is preceded by a free consultation, where our beautician performs a skin analysis to make sure that THERMAGE RF is the most suitable treatment option for you. We will then discuss the treatment plan, the course of the treatment itself, what you can expect from the procedure, and any questions you may have.
You will also receive comprehensive skin care advice, and you will also have the opportunity to purchase professional Babor products, with which you can maintain the achieved results until your next visit to the salon.
If you would like to learn more about THERMAGE RF, sign up for a free consultation today or contact us at one of our contact numbers.
F.A.Q
Is THERMAGE RF treatment painful?

The THERMAGE RF treatment is the most pleasant facial treatment, it is absolutely painless and does not involve even a slight discomfort.
Is THERMAGE RF treatment suitable for me?

The THERMAGE RF treatment can be used effectively on any skin type, but it is most recommended for tightening loose, sagging and faded skin, as well as for lifting a face that has lost its contour.
How long does a treatment take?

The expected duration of the THERMAGE RF treatment is 90 minutes.
What side effects can occur?

Redness may occur after the THERMAGE RF treatment, but this will disappear within a few hours.
How many treatments will I need for visible results?

Spectacular results can be achieved with just one treatment, however, for truly lasting results, avg. 3 - 4 suitable courses are recommended.